Natural Home Remedies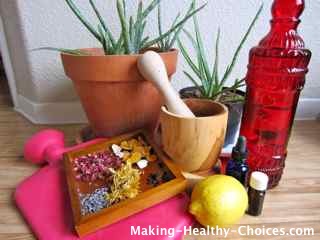 Natural home remedies exist for a variety of ailments and can help you feel better without using dangerous and toxic drugs.
Skip to list of Home Remedies.
Home health remedies include foods from your kitchen as well as simple things you can do at home.
"Let your food be thy medicine and your medicine be thy food"
The above quote from Hippocrates has so much wisdom in it. The fact is that the pharmaceuticals and over the counter medications that many use today were originally derived or inspired from the plant world.
In our modern world, many people quickly turn to synthetic versions of these, surgeries, or other very invasive and unnatural modalities.
There are often very simple and natural home remedies that can be used which will save you money and save your body from the damage caused by pharmaceuticals and/or invasive techniques.
My main source of information for this page is to look back in time and to those still living close to nature;
What did our elders do?
What did our ancestors do?
What did/do the indigenous peoples do?
I strive for remedies that;
come directly from Nature
are non-toxic and safe
are simple and easy
can be made at home
not only alleviate symptoms but also build health
Our elders, ancestors and the indigenous peoples lived/live closer to Nature, they were more in tune with the natural world around them and also with their own instincts. They are among our greatest teachers.
Effective Remedies Often Forgotten
As you read through these pages you may find that your memory is triggered. That you are reading here about something that your mother or grandmother did for you when you were young.
There are so many natural home remedies, homemade medicines, that were often used in the past and that have now been forgotten.
Why have they been forgotten?
Many of the things that were done long ago as either prevention or medicine are now considered folk remedies or 'old wives tales'. They tend to be downplayed and not taken seriously. In our modern science driven culture, many turn away from things that are not 'scientifically proven' or backed by a big company.
People nowadays are often conditioned to side step preventative measures and then to expect a quick fix for any problem that arises.
Also there is no money to be made by natural remedies so they are often covered up by big companies that go on huge marketing campaigns to have you believe you need to buy their product to get better and that natural home remedies are not effective.
Listen to Your Body
One thing I am encouraging here is to to tune in to your body. Listen to your body and become skilled at knowing what your body needs and what it is asking for.
You Are Your Own Best Doctor!!! ...no one knows your body better than you do - no expert, no doctor, no specialist...no one! Provided you take the time to get to know your body and to listen to your body.
It is certainly a good idea to seek advice... Gather as much information as you can from both other people AND from your own inner guide ... and then choose the options that are best for you.
Set the Foundation for Healing
As you read through different remedies you will see that many things are repeated over and over again no matter what the ailment is.
There are some basic things that set the stage for our bodies to heal. Our bodies know how to heal ... Our only job is to continually provide the right environment for our bodies to do just that.
Here are some of those basic things that set the foundation for providing the right environment for our bodies to heal.
Not only good when sick, the following are great things to do regularly to stay healthy
Rest
Get plenty of good quality sleep
Cleanse the colon
Do oil pulling

Get sun
Breathe fresh air
Avoid junk foods, non-foods, processed and refined sugars, wheat, dairy, soy and corn - Eat Healthy
Fast, Juice Fast or do a detox cleanse
If eating, eat plenty of fresh, organic fruits and vegetables or the fresh juices from these
Meditate and visualize healing
Gentle massage and/or skin brushing
Natural Home Remedies - List
This list will continue to grow. Continue to check back or subscribe to this site to know when anything new is added.
Have a remedy you would like to share? ... please do so here.
Prevention and Immune Support
Master Tonic (also great when sick)

Elderberry Syrup (also great for coughs, sore throat)

Thieves Oil
Cold and Flu Remedies

Basic Care - What to do First

Elderberry Syrup, (coughs, sore throat, immune support)

Honey Onion Syrup (coughs, sore throat)
Composition Powder (coughs, fever)
What Do You Do When Sick
Do you have a home remedy that you would like to share? I would love to hear it!
What natural remedies do you use when you have a cold? Get an insect bite? Get a cut, scrape or bruise? Have a headache? Have sore muscles? Feel anxious or depressed? ...
Share your remedies and help others to learn to help themselves to be healthy and well.
I have several home remedies I intend to write about and my knowledge here is growing ... but with your kind sharing we can build this section into a vast library for many to draw upon for help. It is with deep gratitude that I thank you in advance for any thoughts you wish to share.
Do you have a home remedy to share?
Share and help others to learn how to help themselves.
Home Remedies Others Have Shared
Click below to see contributions from other visitors to this page...

| | |
| --- | --- |
| | If you've found this website helpful to you, please consider offering a donation. |
Leave 'Natural Home Remedies', go to 'Cold / Flu Remedies'
Leave 'Natural Home Remedies', go to 'Making-Healthy-Choices' homepage