Dusting Tips
Non-Toxic House Cleaning Tips


The dusting tips on this page are simple house cleaning tips that use only natural and healthy ingredients.
Dust and dust mites are a common trigger for those with a dust allergy, making it important to have really good home dust control.
Dust allergies or dust mite allergies will often become worse if dust is just pushed off of surfaces into the air, rather than really being removed.
Many commercial dusting sprays contain toxic ingredients that can be detrimental to our health. Click here to read more about the importance of staying away from so many of the commercial cleaners that can be toxic (and expensive).
Making your own dust cleaner has so many advantages. It will improve your indoor air quality, cost you so much less that you would spend repeatedly buying commercial products and will be healthy and completely non-toxic to you and your family.

The dusting tips that I suggest here make use of;
a lint free cloth (linen, silk, cheesecloth, microfiber)
warm water

---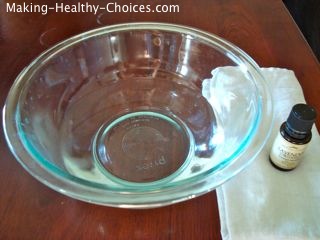 Put some warm water in a bowl with a few drops of your favourite essential oil (about 6-7 drops of essential oil per cup of water).
Lately I have been using Lemongrass Essential Oil which leaves the house with a beautifully uplifting lemon scent. Choose whatever essential oil smells good to you. Each time you dust you can use a different oil depending on your mood.
You can also use a blend of oils such as Thieves Oil Blend.
Essential Oils are anti-microbial, anti-bacterial and anti-viral making them ideal to use when dusting. All of this goodness will get transferred to every surface you wipe.
Once you have added the essential oil to your bowl of water submerge your lint free cloth into the bowl. Remove cloth and wring out as much water as you can until the cloth is just damp.
Now you can use this damp cloth to do all of your dusting. Every so often, re-submerge the cloth in the water again, wring out and then continue dusting with it.
People may think that they need a different technique and cleaner for each different item in their home. The best of all the dusting tips that I could give you is to KEEP IT SIMPLE.
I use the above method for dusting everything in our home including;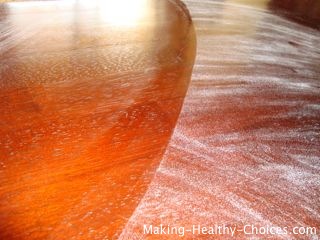 wooden table tops, other table tops, desks etc.
bookshelves and other shelving
door handles and light switches
headboards, dressers, cabinets, etc.
tv and tv cabinet
remote controls
telephones and answering machines
fridge and oven doors
The dampness of the cloth will ensure that dust is removed and not just pushed into the air.
The essential oils will keep everything sanitized, clean and smelling great.
AND the best part is that these dusting tips will improve your health as you use them and leave your home safe and non-toxic for you and your family.
MORE INFORMATION ON ESSENTIAL OILS
Essential Oils are amazing to have on hand. They have a variety of uses including being added to many of your homemade products. Essential oils are the oils extracted from a plant by steam distillation. They are pure and highly concentrated and, so, a very little goes a long way. With essential oils always be sure to purchase from a trusted source and get oils that are therapeutic grade. To buy, online, from a source that I trust for essential oils, click here, I am always impressed with their high quality. Essential oils are anti-microbial, anti-fungal, anti-viral and antibiotic which make them ideal for many applications from cosmetics to medicines to cleaning products. Adding them to your products will also help to preserve and extend the life of your homemade creations.
Leave 'Dusting Tips', return to 'Homemade Cleaning Products'

Go to 'Making-Healthy-Choices' homepage
You may also like;
All-Purpose Spray Cleaner Recipe
Replace All Household Cleaners
| | |
| --- | --- |
| | If you've found this website helpful to you, please consider offering a donation. |