Chia Seed Information and Recipes
Healthy Breakfast Ideas
Healthy Dessert Recipes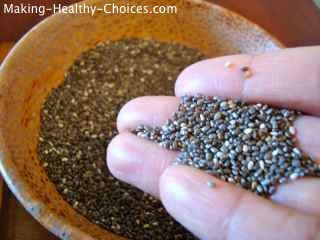 The chia seed is known to some via the infamous chia pet but don't overlook this nutritious food as just a decoration.
Chia has a long history of being used as a staple food by many cultures including the Incan, Mayan and Aztecs.
The word chia actually translates as meaning strength in the Mayan language.
Chia is a member of the sage family (salvia hispanica) and its little black and white seeds are an ancient and very nutrient rich food.
Want to skip to recipes?
Chia is a complete protein in an easily digestible form. The chia seed contains essential fatty acids (great source of omega 3), anti-oxidants and a range of vitamins and minerals including calcium, phosphorus, potassium, iron, magnesium, sulphur, iodine, copper, zinc, sodium, manganese, niacin, thiamine, silicon and vitamins A, B, E and D.
Chia and chia recipes have many benefits including being;
nutritionally dense
easy to digest
a natural appetite suppressant making it great for weight loss
leveling to blood sugar
aids intestinal regularity
extremely hydrating

(soak first)



beneficial in the absorption of nutrients
beneficial in balancing electrolytes
great for energy and endurance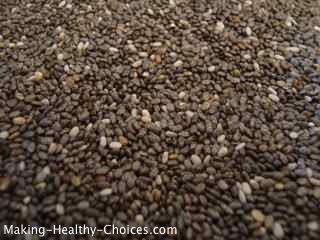 Because of chia's hydrophilic properties, it can absorb 10-12 times it's weight in liquid. This makes it an extremely hydrating food. Great when travelling on a plane, living in a dry climate or at times of exertion.
The seeds can be used dry to sprinkle in soups, salads, smoothies etc. Or you can soak chia to make a chia gel that can then be used as is or in a myriad of recipes.
This wonderful seed can be purchased at most healthy grocery stores or you can check our resource page here for links to purchase online.

Below are some amazing recipes using the chia seed. As this site grows I will continue to add to this list. Check back often or subscribe to this site to know when anything new is added.
Use only organic and fresh ingredients in all your recipes and be sure to start each recipe with LOVE - it is the secret ingredient that will take all your recipes to the next level.
Aside from chia, which has been described above, more information on other things used in the following recipes is at the bottom of this page.

Basic Chia Seed Gel
4 TBSP chia seeds (1/4 cup)

1 cup water (8oz)

Add seeds to water and whisk together to avoid clumping. Let sit covered for at least 10 minutes but a few hours is better. By leaving it longer more of the nutrition in the seeds will become accessible.
The chia will absorb the water and the result will be a highly nutritious gel. This gel will stay good for up to 3 weeks, covered and in the fridge. It is very convenient to make this gel ahead of time and have it ready in your fridge to add to smoothies, salad dressings, puddings, drinks, etc.
This ratio makes a nice thick gel but if you want it thinner simply add more water or less chia seeds.

Use your imagination to create wonderful recipes using this chia gel. Because the taste is very mild on its own, it will blend well with a variety of ingredients.
Make this recipe your own by coming up with new ingredients to add in and if you have a recipe idea you would like to share, please do so here.
---

Chia Pudding or Chia Porridge
(makes 2 servings)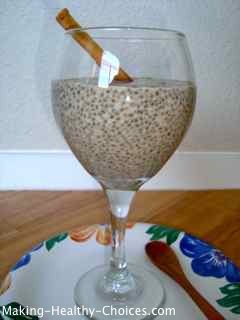 This chia seed recipe makes a wonderfully sweet dish that can be served as a healthy breakfast porridge or as a sweet pudding dessert.
1/3 cup chia seeds
2 cups almond milk
2 tbsp shredded coconut
2 tbsp lucuma powder
2 tbsp maple syrup (or sweetener of your choice - date syrup is a nice option to keep this recipe 100% raw)
Make almond milk using directions found here. Add shredded coconut, lucuma powder and maple syrup to almond milk and whisk or blend together.
Recipe note: You have now made a sweet almond milk which is delicious on its own or as a base for smoothies
Add chia and whisk together to avoid clumping. Cover and let sit for at least 20 minutes but longer, even overnight (in the fridge) is better. Garnish with a sweet cinnamon stick or a sprinkle of cinnamon powder and enjoy.
OPTIONS
Garnish with a drizzle of hibiscus syrup.

Use your imagination to make this recipe your own. You can add raisins, goji berries, other dried fruit, walnuts or other nuts. Maca powder, vanilla powder, mesquite powder, cacao powder can be added. You can substitute almond milk with hemp milk, any other nut or seed milk or even apple or another fruit juice.
Make this recipe your own by coming up with new ingredients to add in and if you have a recipe idea you would like to share, please do so here.
The options are endless, play and enjoy!
---

Orange Chia Pudding with Blueberries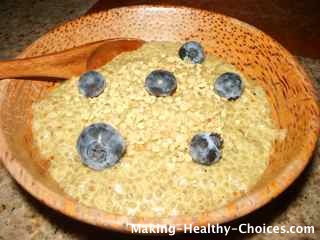 2.5 cups freshly squeezed orange juice
2/3 cup chia seeds
2 tbsp raw honey (or sweetener of your choice - date syrup is a nice option to keep this recipe 100% vegan)
1.5 tbsp raw almond butter
2 tsp shredded coconut
2 tsp lucuma powder
1 tsp maca powder
1/4 tsp cinnamon
1/8 tsp vanilla powder
pinch of sea salt
fresh blueberries and bee pollen
Blend all ingredients except chia seeds, blueberries and bee pollen in a blender (I use a Vitamix blender). Pour this blended orange juice mixture into a bowl and whisk in chia seeds (whisk to avoid clumping). Let sit for a few hours to allow the chia seeds to absorb the liquid making a thick pudding (if you want a thinner pudding you can use less chia seeds).
At time of serving top with fresh blueberries, a sprinkle of bee pollen and enjoy!
---

Chia Lemon Drink or Chia Fresca
This is a great drink to hydrate and replace electrolytes. This is still a very common drink today in Mexico.
10 oz water
2-3 tsp chia seeds
juice of one lemon or lime (or half and half)
1-2 tsp orange juice (optional)
honey or sweetener of choice (optional)
Mix together water, chia, and lemon juice. Stir well. This can be drank right away or you can let it sit a little to allow the chia to expand.
Optionally you can add honey or a sweetener of your choice if you want your drink sweeter. Adding a mixture of lemon, lime or orange juice (freshly squeezed) will add different dimensions of flavour to your drink.
This is one of the most refreshing and satisfying drinks when you are thirsty. Enjoy!
---


Chia Seed Crackers
This cracker recipe is so easy.  It makes a very simple cracker that can be used in so many ways.
1 part chia

2 parts water
pinch of sea salt
 Options:
or
1 tsp dried basil, oregano, thyme

Combine ingredients in a bowl, mix together and let sit for 10-30 minutes.
The mixture will become thick and gel like.
Spread mixture on dehydrator trays with teflex sheets.
Dehydrate at about 115F for a 2-2.5 hours. 
Flip over and remove teflex sheet and continue dehydrating until the crackers are as crispy as you like them.
Be creative with this recipe - try the options above to make chia curry crackers or chia herb crackers.  Make this recipe your own by coming up with new ingredients to add in and if you have a recipe idea you would like to share, please do so here.
---

MORE INFORMATION ABOUT SOME OF THE INGREDIENTS MENTIONED ABOVE:
Chia Seeds are simply amazing and a powerhouse of nutrition.  Scroll around on this page to learn more.

Lucuma Powder is the powder of the dried lucuma fruit. It is high in nutrients including beta-carotene, niacin and iron and has a wonderfully light sweet taste and aroma. This is a great option for a low glycemic sweetener. 

Date Syrup is easy to make. Pit and soak dates in water for at least an hour. Can use the soak water alone for a light syrup or blend soaked dates together with soak water in blender for heavier syrup. Adjust water to adjust heaviness of syrup. This can be made ahead of time and stored in the fridge.
Maca Powder is a powdered root that has amazing health benefits. It is known to balance hormone levels, increase libido and enhance strength and stamina just to name a few. It has a malt like taste and aroma. 

Vanilla Powder is a great alternative to vanilla extract as there is no alcohol used and the flavour and smell cannot be matched. 

Bee Pollen has been known for thousands of years as a very nutrient dense food and was historically used for its stamina and strength giving properties. It is a great source of protein containing all essential amino acids. Please act responsibly when obtaining bee pollen and be sure to only obtain from a reliable, kind and sustainable source. Bees are very important to the health of our planet; they and the amazing products they produce need to be respected and treated with care. There may be some that have an allergy to bee pollen. 

Return to 'Healthy Food Recipes'
Go to 'Making-Healthy-Choices' homepage
You may also like:
Cauliflower Wraps, Crackers, Pizza Crust (using chia seeds)
Chocolate Pudding (using chia seeds)

| | |
| --- | --- |
| | If you've found this website helpful to you, please consider offering a donation. |