Cauliflower Wraps
Raw Vegan Recipe


This cauliflower wraps recipe is a healthy gluten free bread alternative.  Makes a great tortilla, pizza crust or cracker.
Video not playing?  Click here


What's Wrong with Bread?

Many of us are starting to realize that conventional bread, crackers, pizza crust, etc. is just not that good for us.
The wheat used to make these things can cause lots of problems in these magical bodies of ours.  Many of us are now gluten sensitive.  Gluten is the protein inside of wheat and it is very hard for our digestive system to break down.
Eating wheat can contribute to inflammation, digestive distress and can create a lot of mucus in our system (this is the number one reason to avoid consuming wheat if you have the cold/flu).
The great thing is that there are lots of great alternatives.  These cauliflower wraps make a great tortilla!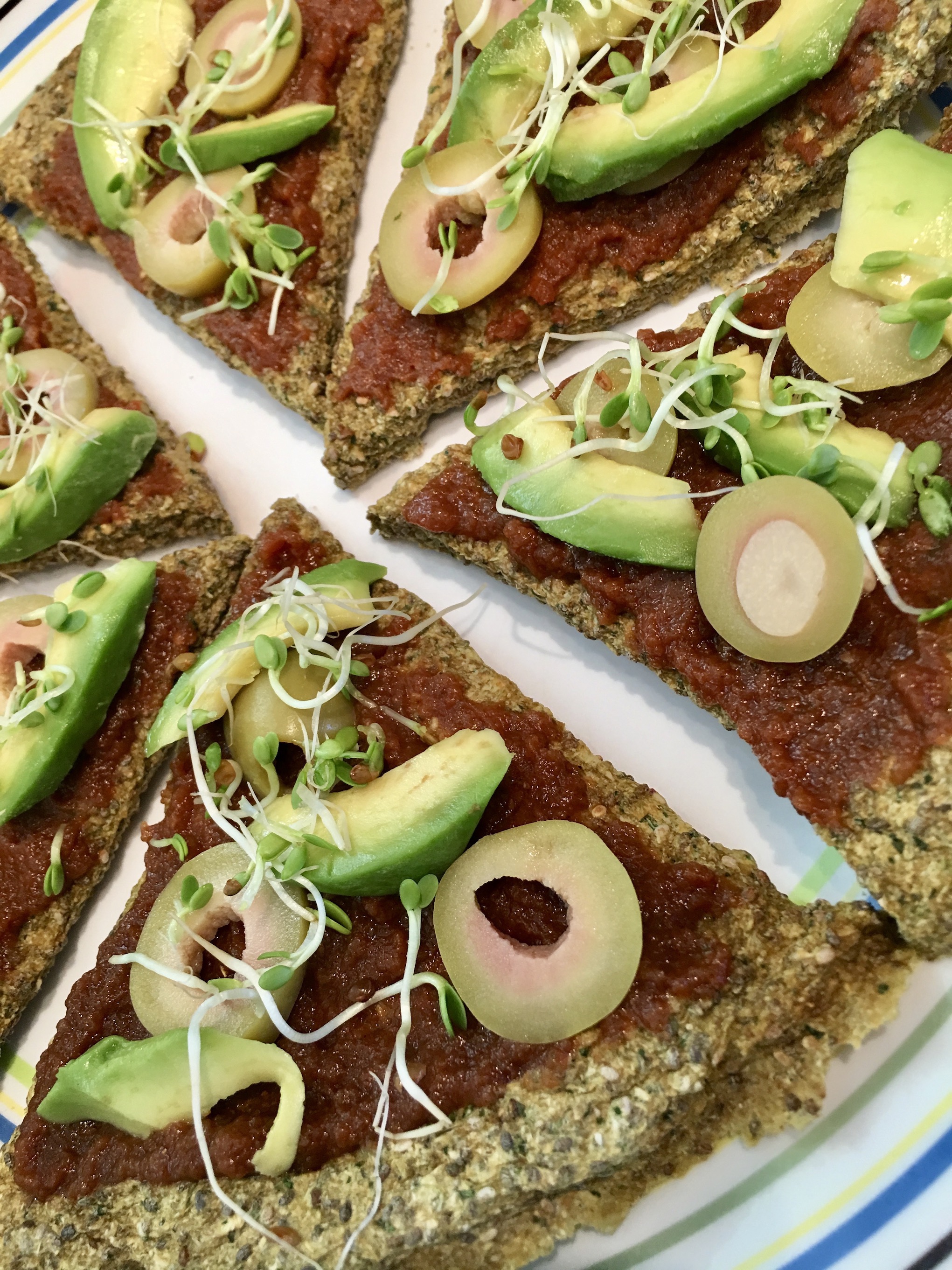 Cauliflower Wraps Recipe

INGREDIENTS:
LOVE (always start every recipe with LOVE)
1 head cauliflower, chopped
Chia Gel (see instructions below)
1/2 teaspoon sea salt
1/2 teaspoon black pepper
1/2 cup fresh cilantro (or herbs of choice)
CHIA GEL
2 Tablespoons chia seeds
1/2 cup water
Mix together chia seeds and water in a bowl and set aside.

The chia seeds and water will create a gel while you are getting everything else ready.
Add chopped cauliflower to food processor and process.
Add remaining ingredients (including chia gel) and process again.
Spoon the mixture on dehydrator sheets into the shape you desire.  You can make tortilla wraps, bigger for pizza crust, smaller for crackers.
Dehydrate for about 3 hours and then flip over and remove teflex sheet. 
Dehydrate for a few more hours (longer if you want a crispy cracker or well done pizza crust, shorter for a more pliable tortilla wrap)
Enjoy with your favourite fillings, toppings or dips.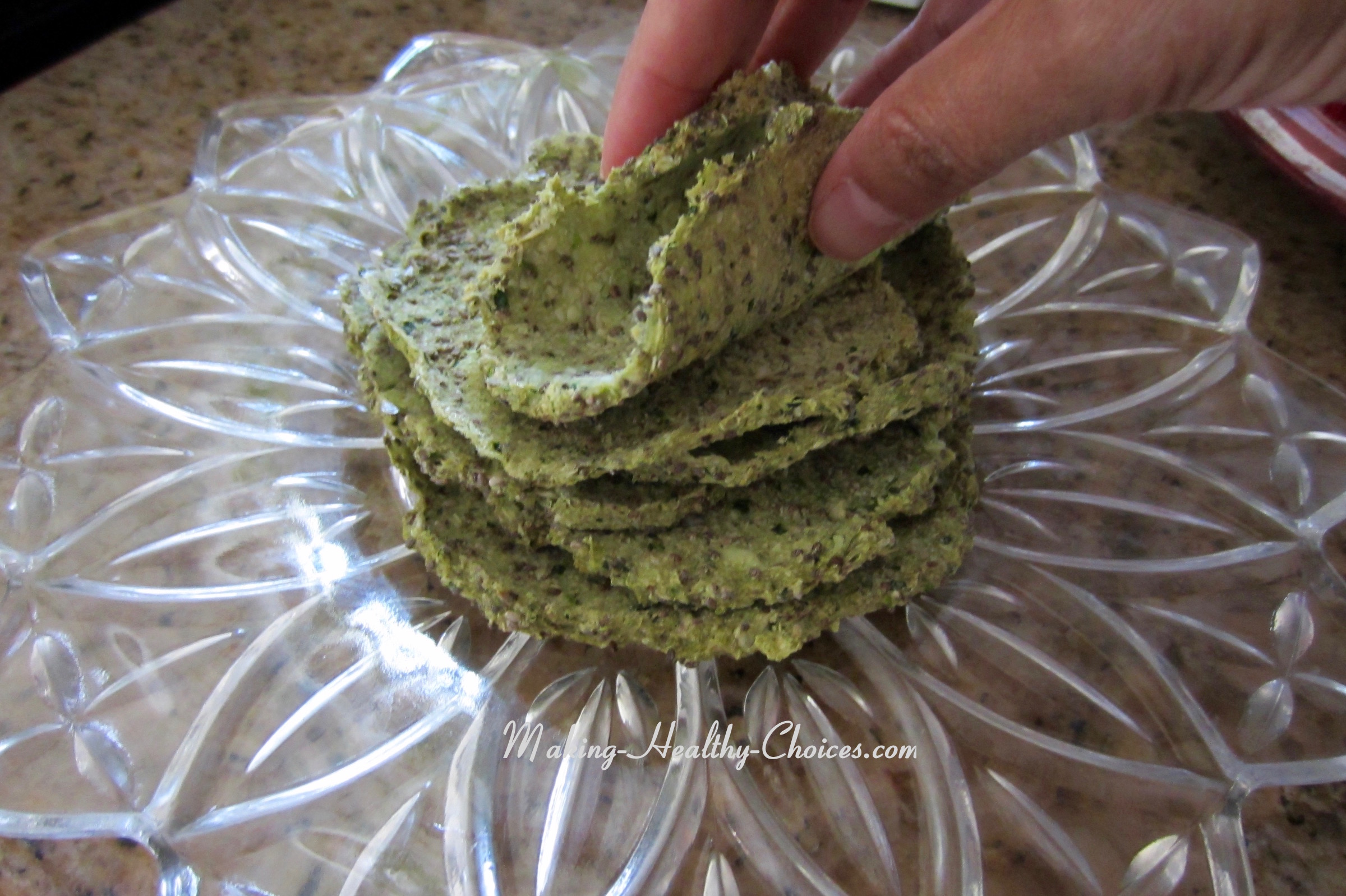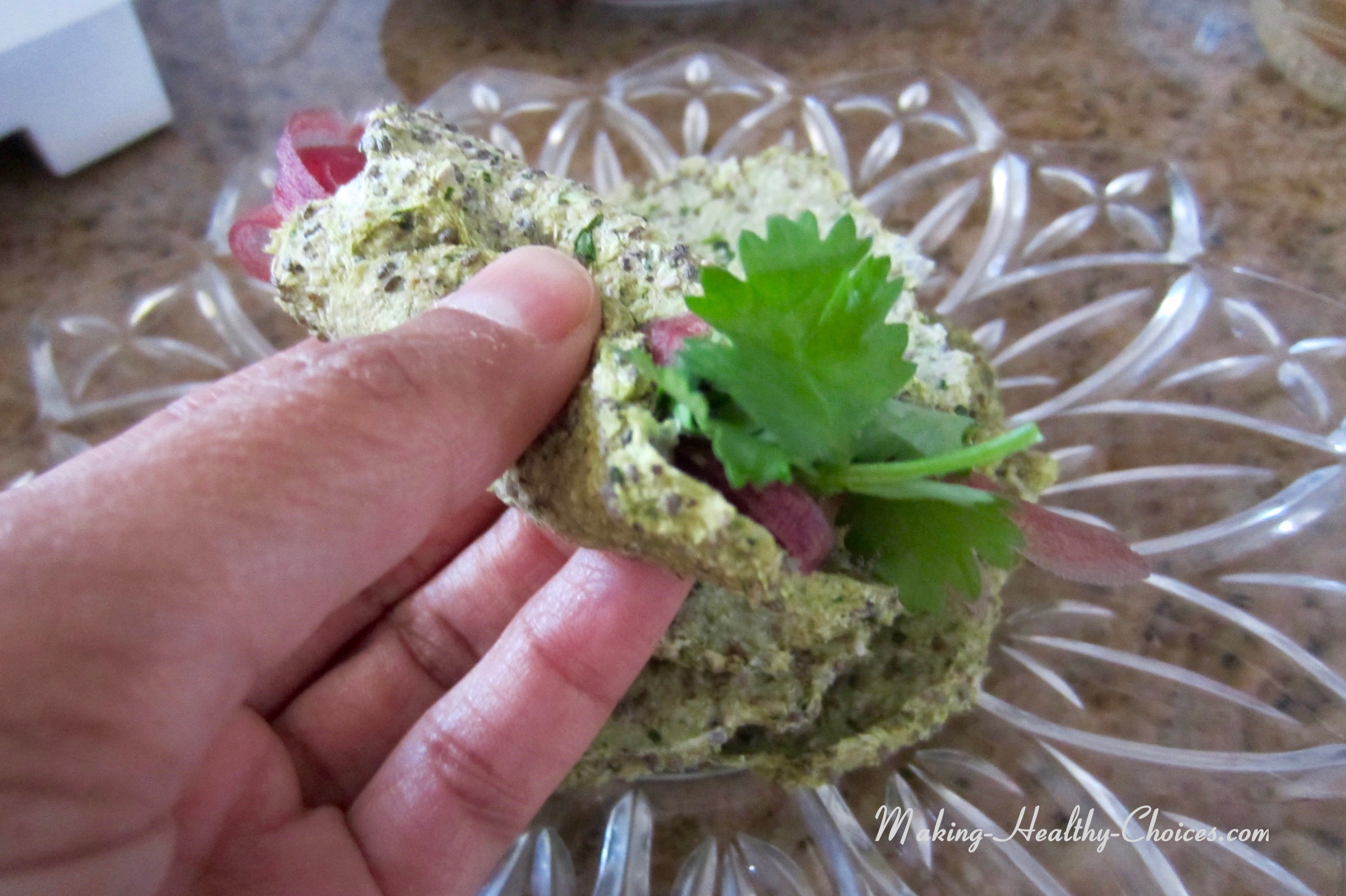 I encourage you to play with this recipe and make it your own.  Depending on the size of your head of cauliflower you may need more or less salt and pepper.  Also play with the amount of herbs you use and try using different herbs and spices.
Leave 'Cauliflower Wraps', return to 'Healthy Food Recipes'
Go to 'Making-Healthy-Choices' homepage
You may also like:
Onion Bread (raw vegan burgers)
| | |
| --- | --- |
| | If you've found this website helpful to you, please consider offering a donation. |