Cauliflower Recipe
(Raw and Vegan)
A Healthy Snack Recipe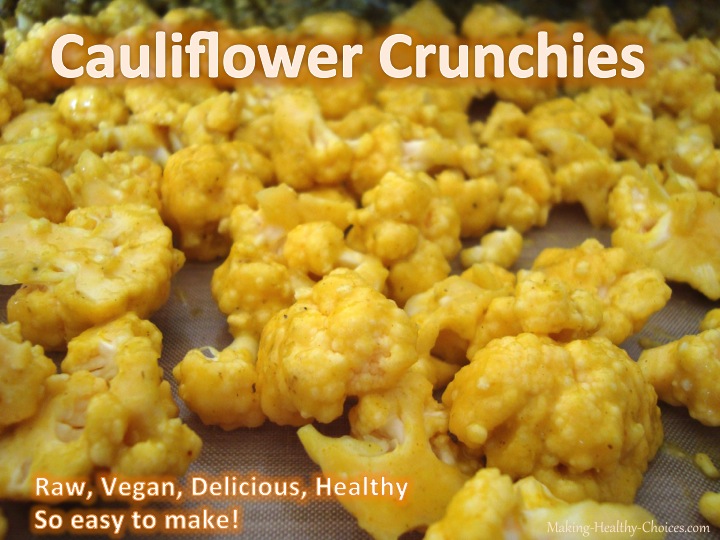 This cauliflower recipe only has 5 ingredients and is very easy to make. It's a nice crunchy snack to have that is full of nutrition too.
Great to have a healthy snack recipe to make and have on hand when those cravings for something crunchy hit you.
These also make a wonderful and healthy addition to your salads or to any meal.  And consider taking these with you on the go; such a great travel food.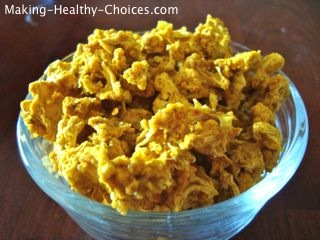 INGREDIENTS: (always use organic fresh ingredients, scroll down to see more information on some of the things mentioned in this recipe)
Love (all recipes taste better if they are made with love)
1 head cauliflower
1/3 cup miso paste
2 tbsp water
1 tsp curry powder
pinch sea salt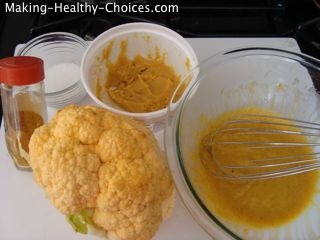 In a large bowl, whisk together all ingredients except the cauliflower and set aside. Wash and cut cauliflower into small bite size pieces.
Add the cauliflower pieces to the large bowl and mix well so that all pieces are coated with the sauce.
Spread the coated cauliflower pieces onto dehydrator sheets (I use an Excalibur dehydrator) and dehydrate until crunchy.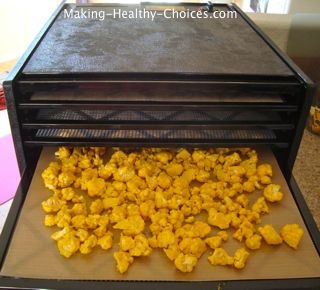 If you don't have a dehydrator for this cauliflower recipe you can put your oven on its lowest setting and place these on a cookie sheet in the oven. Leaving the oven door slightly ajar will also help.
Have fun with this healthy food recipe to add a healthy snack to your cupboards.
Another Cauliflower Crunchy Idea

Here is another flavour of this crunchy snack!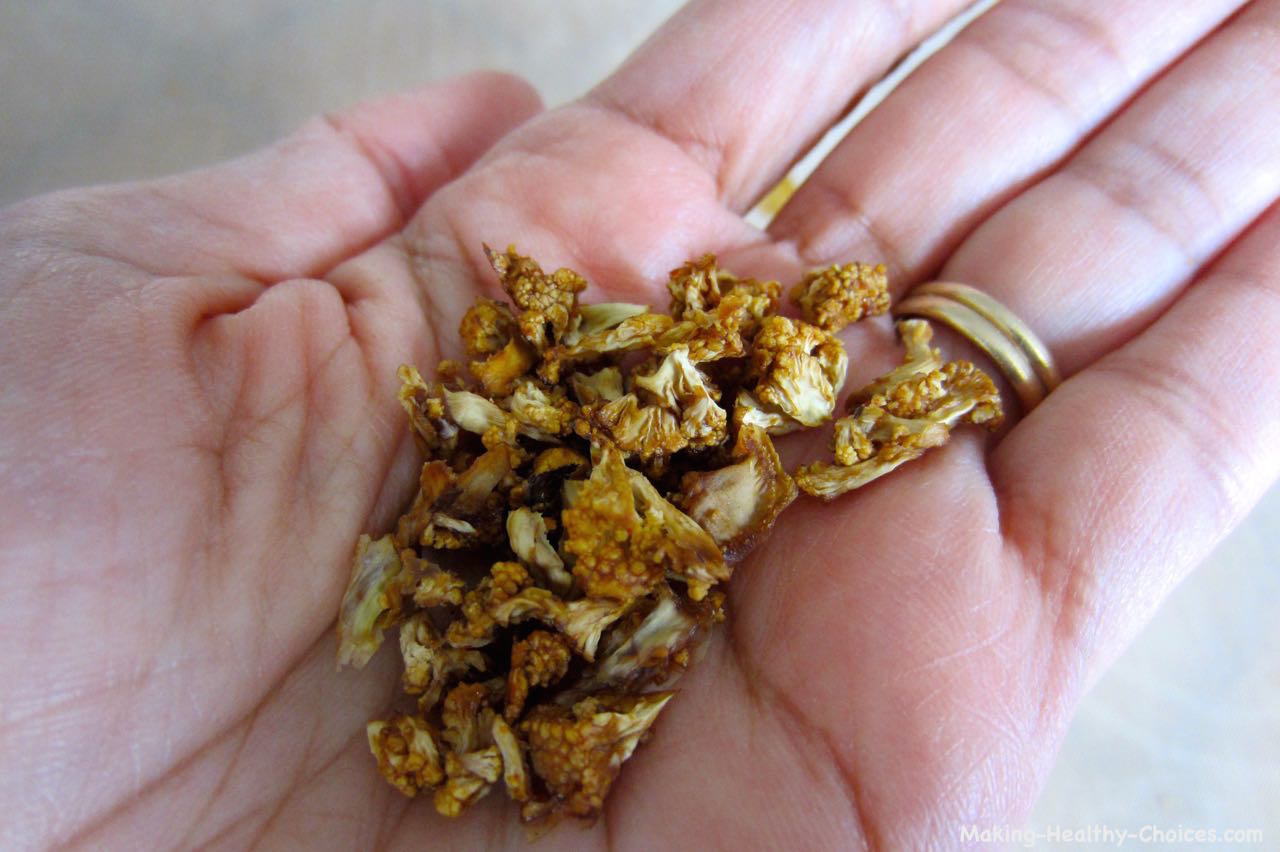 Ingredients:
Cauliflower, finely chopped
Maple syrup (or sweetener of your choice)
In a bowl, create your marinade with some tamari sauce, just a smidge of maple syrup and just a pinch of cayenne.  Taste your sauce, it should be slightly spicy with just a hint of sweetness that is barely noticeable. 
Add in your finely chopped cauliflower to the marinade and stir well. 
Place in your dehydrator and dehydrate until crunchy.
That's it - enjoy this whenever you get that feeling for a salty spicy crunchy snack.  This one is so much better than potato chips!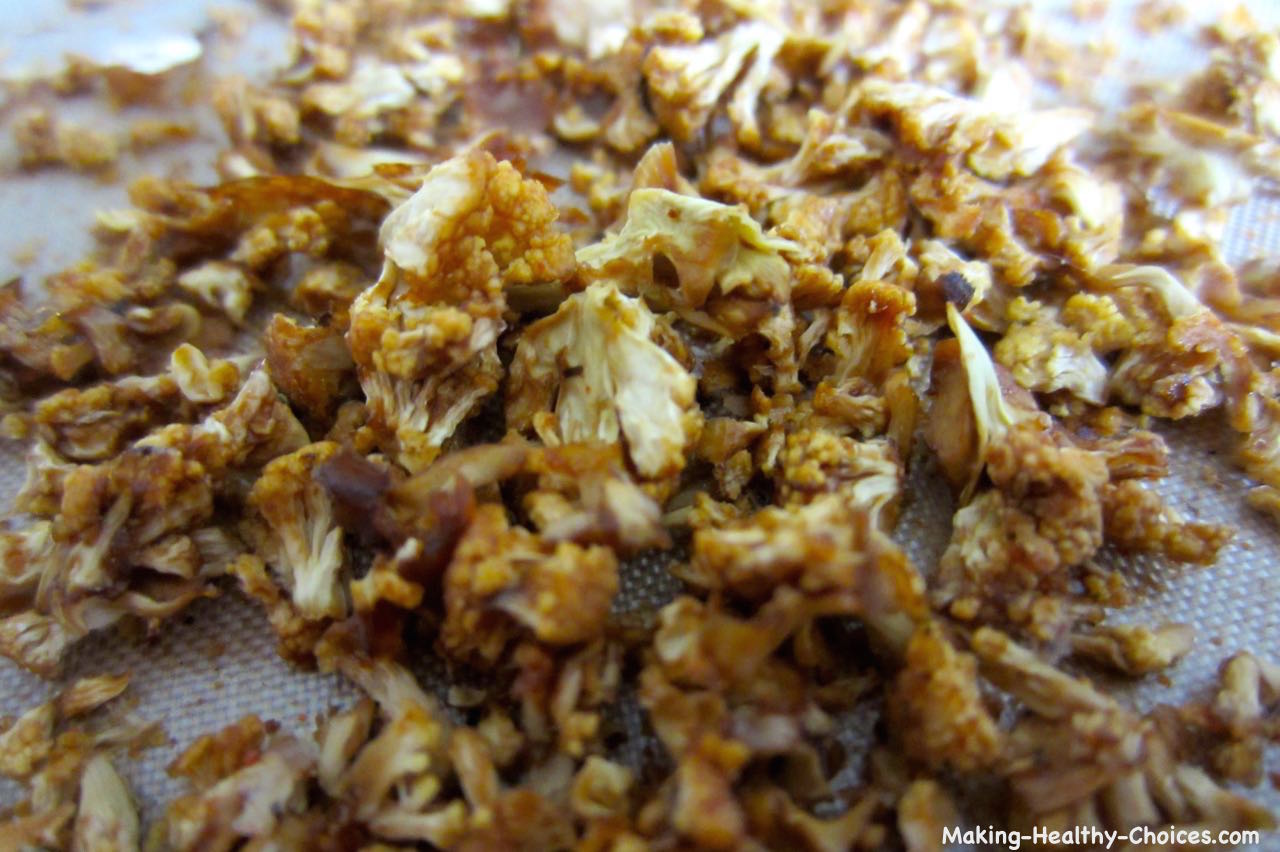 MORE INFORMATION ABOUT THIS CAULIFLOWER RECIPE:
Miso paste is a fermented paste. It is traditionally made using soy beans but you can also find miso paste made from brown rice or chickpeas which contain no soy.  Miso paste can be purchased at most grocery stores and in Asian markets.
Sea Salt is a much healthier option to iodized table salt. Sea salt is rich in minerals and the best ones to buy are the ones that are grey or pink. It can be purchased at most grocery stores or for my recommended online source of sea salt, click here.
Excalibur Dehydrator with teflex sheets (needed for foods that start out as a thick liquid) is one of the best dehydrators out there. It allows you to dehydrate foods at a low temperature thereby keeping all enzymes and nutrients intact. To learn more about and/or to purchase the Excalibur Dehydrator, click here.
Leave 'Cauliflower Recipe', return to 'Healthy Food Recipes'
Go to 'Making-Healthy-Choices' homepage
You may also like;
Cauliflower Wraps (Tortilla, Pizza Crust, Crackers)

Healthy Eating While Traveling
| | |
| --- | --- |
| | If you've found this website helpful to you, please consider offering a donation. |