Healthy Chocolate Recipe
Healthy Dessert Recipes
A Healthy Snack Recipe


This healthy chocolate recipe is raw, vegan and delicious. Its easy to make, nutrient rich and will satisfy your taste for chocolate.
Almost everyone likes chocolates and nowadays you can purchase chocolate in all varieties and forms. The problem is that most of the chocolate candy bars and chocolate flavoured snacks on the market are highly processed and not healthy for us.
This page will show you a healthy chocolate recipe that uses the raw form of chocolate, often referred to as cacao. Chocolate in its raw, unprocessed form contains many nutrients including a high level of antioxidants.
In fact, all of the ingredients in this simple healthy chocolate recipe are beneficial to health.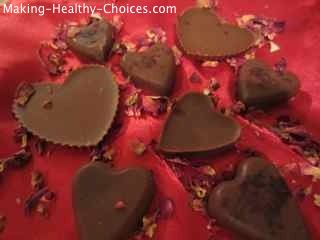 What can I Make with this Healthy Chocolate Recipe?

You are only limited by your own creativity!!!
And to get you started here are some really fun things you can do with this chocolate:

a gorgeous chocolate fondue dipping sauce
a chocolate sauce to pour over other desserts
chocolate bars
beautifully shaped chocolates
chocolate peanut butter cups
chocolate banana popsicles
chocolate macaroons
chili chocolates
chocolate milk
chocolate milkshake
chocolate ice cream
add to smoothies
etc. etc.
(read on for further instruction to make the above)
Be creative with the above ideas or come up with your own ways to use this delicious healthy chocolate recipe. Share below in the comments section.
Do keep in mind though that raw chocolate (raw cacao) can be quite stimulating for some so enjoy these healthy chocolates as a nice treat not to be over-indulged in. Everything in balance. Also try using half cacao / half carob to mellow that stimulating effect out.
Use only organic and fresh ingredients in all of your recipes and be sure to start each recipe with LOVE - it is the secret ingredient that will take all your recipes to the next level.
Healthy Chocolate Recipe

INGREDIENTS:
(Need supplies?  Check out our Resources Page here)

Melt the cacao butter with very low heat (a water bath on the stove works great). Once melted transfer to a blender (I use a Vitamix Blender), add remaining ingredients and blend until smooth.

You now have a gorgeous healthy chocolate sauce that can be used in so many ways, read on for some great ideas and share your own ideas below.
Recipe Variations
Chocolates: Pour this healthy chocolate sauce into fun shaped molds and freeze to make little chocolates of all shapes and sizes.
Or...
Mix whole or crushed nuts/seeds or dried fruit into the chocolate before pouring it into the molds
Or...

Pour a little chocolate into the bottom of the mold and let set in freezer for 5-10 minutes.  Take out and put a filling on top of the set-up chocolate layer (think marzipan, nut butter, coconut cream, etc.), then fill up the mold with more chocolate and return to freezer.
Chocolate Peanut Butter Cups: Pour a little of the sauce into your mold and harden in freezer. Remove from freezer and place a small amount of organic peanut butter (or almond or any nut or seed butter) on top of the hardened layer of chocolate, cover with more of the chocolate sauce and freeze again.  Think about mixing some sea salt and small amount of raw honey (or sweetener of your choice) into the nut butter before adding it to the mold for extra added flavour.
Chili Chocolates: Add some (just a little) cayenne pepper (powder) to the chocolate sauce before pouring into molds for freezing. This makes an amazing spicy chocolate that is so good! It may surprise you but chili and chocolate are two tastes that really compliment each other and have been used together for ages in some cultures.
Chocolate Banana Popsicles: Peel a banana and put a wooden chopstick firmly through the banana lengthwise. Dip the banana generously in the chocolate sauce and freeze. Or use bite size pieces of banana with toothpicks. These make great hors d'oeuvres.
Chocolate Macaroons: Mix in a generous amount of shredded coconut into the chocolate sauce before freezing.
Chocolate Fondue: Dip strawberries, bananas or other fruits for a fondue dessert.
Chocolate Sauce: Drizzle some sauce over ice cream, cakes or cookies.
Chocolate Milk: Blend with almond milk (or nut/seed milk of your choice)
Chocolate Milkshake: Blend with almond milk and frozen bananas.
Chocolate Ice Cream: Freeze almond milk into ice cube trays and then blend frozen almond milk cubes with the chocolate sauce. Frozen bananas work great here too.
AND...
create create create... There are so many ways that you can use this recipe. Have fun with it and please share your ideas below in the comments section below.
Below are two amazing chocolate recipes that were graciously given to this site from beloved friends:
| | |
| --- | --- |
| | If you've found this website helpful to you, please consider offering a donation. |
Leave 'Healthy Chocolate', return to 'Healthy Food Recipes'

Leave 'Healthy Chocolate', go to 'Making-Healthy-Choices' homepage
You may also like;

Where does Chocolate come From?
Chocolate Pudding Recipe (video)
Chocolate Chip Cookies (Raw Vegan Recipe)