Cherry Cheesecake Cobbler
Raw Vegan Dessert Recipe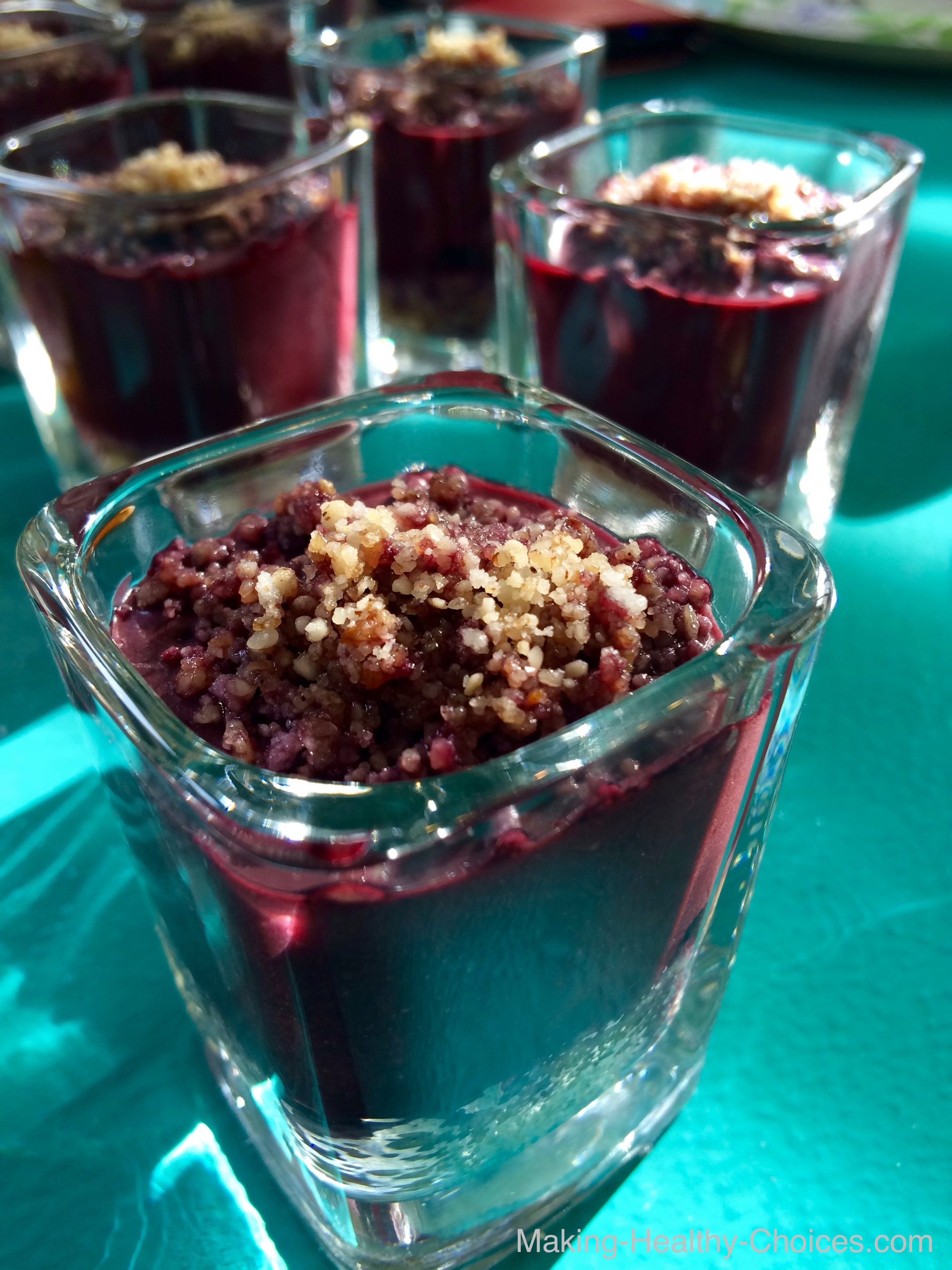 This cherry cheesecake cobbler is so absolutely indulgent .... while also being completely nourishing!!!
This recipe is made with such nourishing ingredients that you can feel great eating this at any time - not just for dessert. 
Remember that recipes are just suggestions!  When I create, I don't typically measure my ingredients - all is done by feel and taste and I encourage you to do the same.
Think of the recipe as a guideline with lots of room to play.
As you create the recipe below (or any recipe on our site) taste as you go and adjust.  Let your tastebuds and your intuition guide you.
What's so great about Cherries?


Aside from being one of my absolute favourite fruits, cherries have amazing nutritional properties.  There are sweet cherries and sour cherries and it is the sweet cherries that are the ones I love and are what I use in this recipe.
The doctrine of signatures tell us that cherries, by their deep red colour and shape similar to the blood cells, are extremely nourishing to our blood.
Cherries are rich in iron as well as an array of other nutrients including phosphorus, potassium, calcium, vitamin A and they are a great anti-oxidant food.
Cherries (along with many other deep coloured fruits/vegetables) are a great food to give you natural protection from the sun.
I encourage you to buy fresh sweet cherries when they are in season but if that is not possible frozen sweet cherries are wonderful too.
Cherry Cheesecake Cobbler Recipe

Ingredients for base/crust and crumble topping:
LOVE

1 cup walnuts
1 cup cashews
1/2 cup coconut pulp (leftover after making coconut milk, also known as coconut flour)

5 dates, pitted
8-10 dried mulberries
1 tsp cinnamon
1 tsp vanilla powder
pinch of sea salt
Ingredients for cherry filling:
LOVE

10 oz of sweet cherries, pitted (if using frozen, allow to thaw)
1/2 cup coconut cream
3 Tbsp Irish Moss gel
1/2 teaspoon cinnamon

1/2 teaspoon vanilla powder
pinch sea salt
Irish Moss Gel is an ingredient that some of you may not be familiar with.  Irish moss is a seaweed (not a moss) and seaweeds are fantastic to include in your diet; they are rich in minerals and nutrients.  Irish moss has long been used in many countries in medicinal as well as culinary preparations.  It is wonderfully soothing to the digestive tract and great for the skin.  With a little preparation (basically lots of rinsing and soaking and then blending with water) you can create Irish moss gel from the Irish moss seaweed.  This gel can be stored in the fridge and used in smoothies, as a face mask and in recipes like this cherry cheesecake cobbler.  For more information and inspiration about Irish moss, click here.

To make the base/crust, process all of the base/crust ingredients in a food processor until crumbly.
Spoon a little into individual serving glasses and press down to create a crust on the bottom of the glass.
Reserve some of the mixture to use as the crumble topping.

For the cherry filling, place all of the filling ingredients in a blender and blend until smooth.
Pour the filling into each individual serving glass on top of the crust.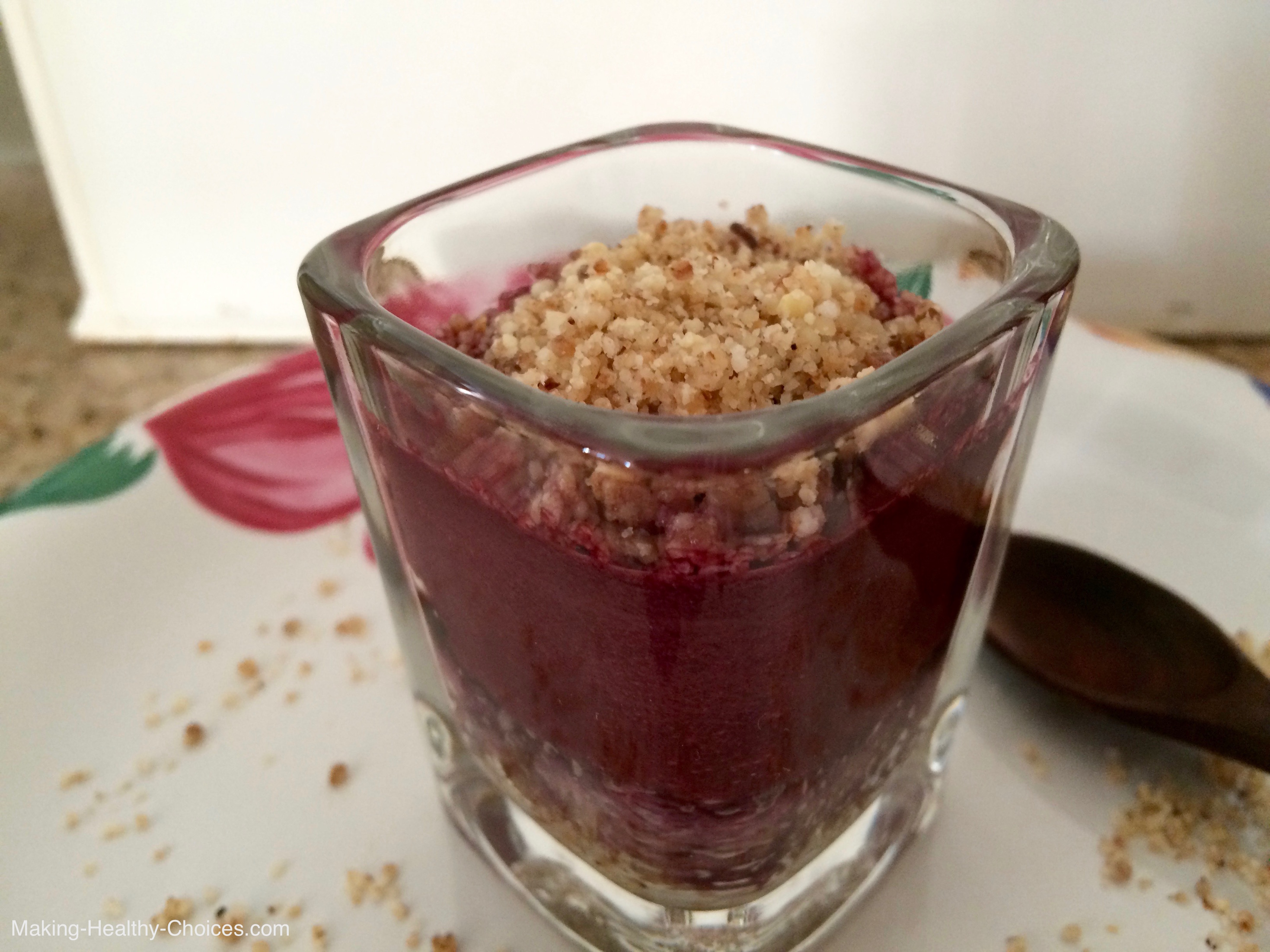 To finish your cherry cheesecake cobbler, sprinkle some of the crumble topping on top of the cherry filling.
Smile and enjoy!
Options:
Cherries not sweet enough for you?  Try adding just a bit of maple syrup (or sweetener of your choice) into the blender.
Instead of the crumble topping you can top with a beautiful dollop of sweet cashew cream

| | |
| --- | --- |
| | If you've found this website helpful to you, please consider offering a donation. |
Leave 'Cherry Cheesecake Cobbler', return to 'Healthy Food Recipes'
Go to 'Making-Healthy-Choices' homepage