Cashew Cream Recipe
This cashew cream recipe is heavenly, make it sweet for desserts or savory for other dishes.
This full thick cream is dairy free which makes it suitable for lactose-free diets and for anyone that is into high vibrational healthy food that taste AMAZING!
By adjusting the water in this recipe you can make this cream as thick or thin as you would like.  With enough water you can create a beautiful cashew milk, with less water you can create an icing or whip topping.  Adjusting the water and a few ingredients allows you to create anything in between...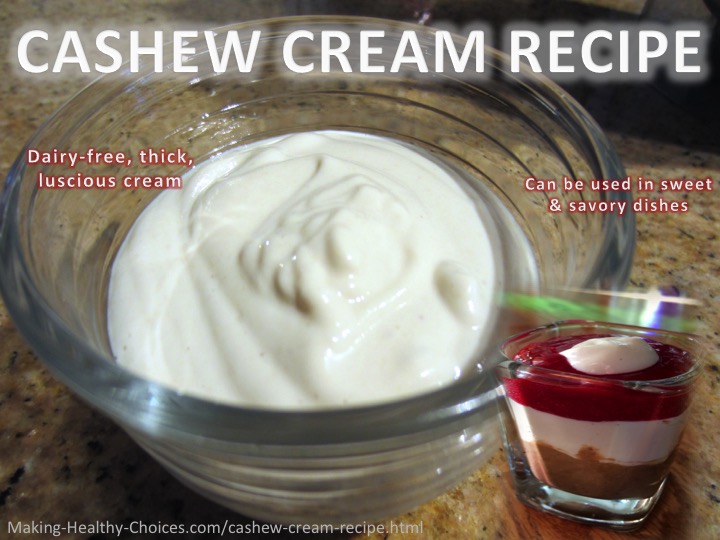 Use this cream for:
Icing, frosting or whip topping

Cream filling in desserts (check out the picture of the trifle below!)
Fresh berries and cream
Dairy substitute in coffee or tea
Base for smoothies
Base for chocolate milk

Creamy salad dressing (something like Ranch)

Base for cream soups
Base for curry sauces
Base for creamy pasta sauces
Spread for inside sandwiches or wraps
And so much more



Why a Non-Dairy Cashew Cream Recipe?
Why not use dairy cream?  Well, pasteurized dairy, can cause a lots of health challenges in the body.  Many people are lactose intolerant, and many others find dairy to be mucous forming and inflammatory in the body. 
Not nice!
It is also important to note that the life of many dairy cows is not a pretty one.

Nut and seed milks are a great alternative to dairy.
What is a Cashew?
The cashew or anacardium occidentale is a kidney shaped nut that grows on a big tree in the tropics.  The nut hangs off the bottom of the cashew apple (which is also extremely delicious!).
Cashews are a great source of magnesium, phosphorus and potassium as well as protein.
The mildly sweet flavour of the cashew make it an ideal nut in both sweet and savoury cashew cream recipes.

Sweet Cream Recipe
(and savory option)


INGREDIENTS:
2 cups cashews (buy cashews online here)

1.5 cups water
2 Tbsp coconut milk (optional but very nice!)

2 Tbsp maple syrup (or you can use a couple dates, pitted)
For savory cream, omit maple syrup and add a pinch of sea salt
Add cashews, coconut milk and maple syrup into your blender (I use a Vitamix Blender).  Start blending and slowly add in the water until you get the consistency you like.
For thicker cream use less water, for a thinner cream use more.
RECIPE TIP:  Cashew milk is made by simply adding more water.  The ratio for milk is about 1 part cashews to 4 parts water.  Very similar to making almond milk.

Recipe Video
How to Make Sweet Cashew Cream
&
Chocolate Cream Raspberry Trifle (Parfait)
If you have trouble viewing the video below, click here.




Savory Cream Recipe



To make a savory version of this cream, omit the maple syrup from the above recipe and add a pinch of sea salt.  This makes a basic non-sweet cream that can be the base for many savory sauces or dishes.   

To this basic non-sweet cream try adding;
dill, oregano, thyme (could be used as a dip for veggies or a spread inside a sandwich or wrap)
curry powder (could be nice over steamed veggies or also as a spread inside a wrap)
add apple cider vinegar, lemon, garlic and onions to create a creamy salad dressing or spread

use as a base for a creamy pasta sauce (add basil for a creamy pesto sauce)

use as a base for a cream soup

use your imagination to create an amazing and nourishing meal
Leave 'Cashew Cream Recipe', return to 'Healthy Food Recipes'
Go to 'Making-Healthy-Choices' homepage
You may also like:
| | |
| --- | --- |
| | If you've found this website helpful to you, please consider offering a donation. |