Stuffed Mushrooms
(raw, vegan)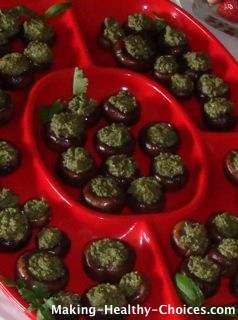 These stuffed mushrooms are a healthy appetizer that are delicious and a great crowd pleaser. This is a completely raw and vegan recipe.
For the best tasting results, use organic, fresh ingredients and always start all your recipes with LOVE (all recipes taste better if they are made with love).
INGREDIENTS:
24 oz crimini mushrooms (or mushrooms of your choice)
MARINADE:
2 large cloves garlic, crushed
2 tbsp olive oil
1 tsp sea salt
STUFFING: (there are two stuffing recipes listed here, use one or the other, or both)
for Pesto Stuffing, click here to read ingredients
for Cheez Stuffing, click here to read ingredients
Combine marinade ingredients in a large bowl.
Wash and de-stem mushrooms. Add mushroom caps and stems to the marinade, mix to coat all and set aside. (add a bit more olive oil if needed to coat all caps and stems)
For PESTO STUFFING;
Follow the recipe for the pesto sauce, found here.
AND add the mushroom stems that have been marinating into the food processor and blend them into the pesto sauce.
For CHEEZ STUFFING;
Follow the recipe for the cheez sauce, found here.
Next, stuff the marinated mushroom caps with whichever stuffing you chose to make and arrange on a platter for serving.
If you made both stuffing recipes then you can enjoy arranging a colorful platter with your two varieties of mushrooms.
Serve with a smile and enjoy!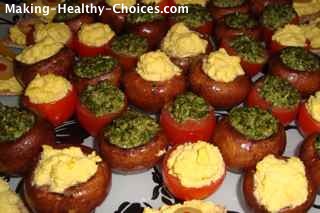 | | |
| --- | --- |
| | If you've found this website helpful to you, please consider offering a donation. |
Leave 'Stuffed Mushrooms', return to 'Healthy Food Recipes'
Go to 'Making-Healthy-Choices' homepage