Hibiscus Tea, Hibiscus Juice
(Popsicles, Candy, Ice Cream...)
Hibiscus tea or hibiscus juice is easy to make, is very refreshing and so good for you.
Hibiscus drinks are enjoyed around the world and are known by many names including Jamaica, Rosella, Bissap and Sorrel.
The hibiscus flower - Hibiscus Sabdariffa (see dried flowers pictured below) has a tangy taste that infuses beautifully into liquid to make a gorgeous deep red drink.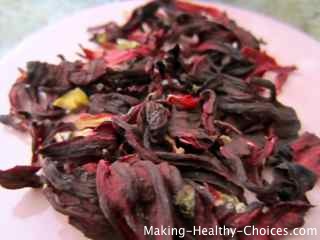 You can enjoy this drink either hot or cold and it can be sweetened to taste. We sweeten ours with raw honey but any sweetener of your choice will work.
Hibiscus (hibiscus sabdariffa) has many health benefits including;
great source of vitamin C and antioxidants
regulates blood pressure
regulates cholesterol levels
mild diuretic
mild laxative (helpful with constipation)
improves circulation
eases stomach or digestive issues
soothing for the nerves
relieves respiratory mucus buildup
---
HIBISCUS RECIPES
HIBISCUS TEA, HIBISCUS JUICE:
Hot Infusion Method:
Ingredients:
Bring water to a boil. Add hibiscus flowers and reduce to simmer. Simmer for 30 minutes.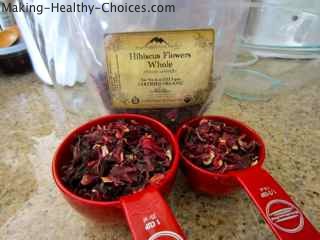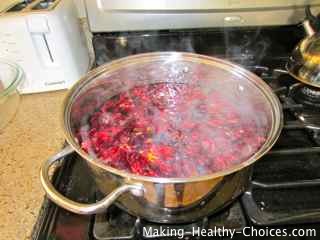 Strain and add honey (use the flowers that you strain out to make candy).
Enjoy as a hot drink, cooled to room temperature or chill and serve over ice.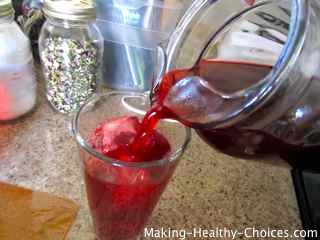 Cold Infusion Method:
This is a great way to make a single serving of this gorgeous juice.
Ingredients:
glass jar with lid
10 oz water
1 tbsp dried hibiscus flowers
1-2 tbsp raw honey (or sweetener of your choice) - or to taste
Put hibiscus flowers in the glass jar and fill with water.
Let stand for 24 hours or overnight. You can put this out in the sun or on the countertop.
The water will become infused with the flowers and turn a beautiful red colour.
Strain and add honey (use the flowers that you strain out to make candy).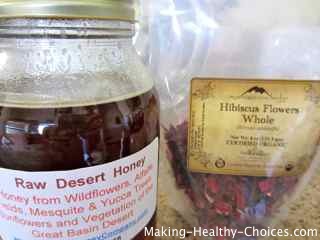 Enjoy at room temperature or served over ice.
If you want to make a larger batch using this method, simply get yourself a bigger glass jar and use more flowers, water and honey.
OPTIONS:
Try adding these ingredients to your hibiscus tea / juice;
fresh squeezed lemon or lime juice
fresh sliced ginger
clove
mint
cinnamon
The lemon/lime juice can be added at the end and stirred in.
The other herbs I would recommend adding at the same time you add the hibiscus flowers and let them all infuse together.
Garnish with a sprig of fresh mint.
HIBISCUS TEA POPSICLES and ICE CREAM:
Use the beautiful juice you have created above and pour into popsicle molds for a sweet red popsicle. Perfect for those hot summer days.
You can also freeze this hibiscus tea/juice into cubes using your ice cube tray.
Use these frozen juice cubes instead of ice cubes in your water or blend these cubes in your blender (I use a Vitamix Blender) to make instant hibiscus ice cream.
---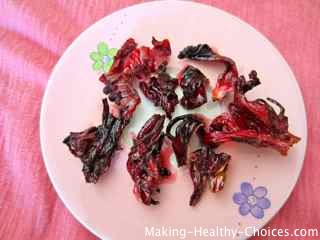 This makes a tasty sweet/sour candy.
Soak dried hibiscus flowers in honey and then dehydrate.
or
Use the flowers that you strain out when making the above juices. Dip these in honey and then dehydrate.
I use an Excalibur Dehydrator which is one of the best out there for dehydrating at low temperatures ensuring all the nutrients remain intact.
---
Where Do I Get Hibiscus Flowers?
You can find these in grocery stores specializing in ethnic foods and my favourite online resource is https://www.mountainroseherbs.com/
| | |
| --- | --- |
| | If you've found this website helpful to you, please consider offering a donation. |
Leave 'Hibiscus Tea', return to 'Healthy Food Recipes'
Go to 'Making-Healthy-Choices' homepage