Make Healthy Choices Every Day
for Superior Holistic Health.
From food and cleansing your body to cleaning your home naturally; Holistic Health is about you as a whole person and that includes choices made in all aspects of your daily life.
The purpose of this website is to share with you tips, techniques and ideas that you can immediately use in your life to help you to be the healthiest, most vital and vibrant version of yourself. My goal is to help you to remember what it means to make healthy lifestyle choices.
Improvement is a life long task and there is no need to hurry to be perfect but there is a need to begin;
"A journey of a thousand miles begins with a single step." - Confucius
My hope is that you will find at least one idea on this site that you can implement in your life today to make yourself a healthier person.
If you feel overwhelmed by all the changes you want to make, go slowly, Nature is perfect in its design but it is not always quick. Our bodies are perfectly designed to be healthy and our job is to provide the right environment for our bodies to do their job.
Not sure where to start? This Free 7-day Holistic Health e-Course can get you on your way (also a great incentive builder if you are well on your way already).
As this website grows, I will continually be adding information on many nourishing aspects of living a healthy life including;
Proper breathing
Proper rest & exercise
Managing stress and maintaining proper balance
I like to look back in time and see how people took care of themselves long before the widespread use of packaged foods, fast food outlets and so many synthetic medicines.
To learn from the ancient wisdom of our elders and ancestors is where the key to long term holistic health can be found. As Hippocrates said, 'Let thy food be thy medicine and thy medicine be thy food'.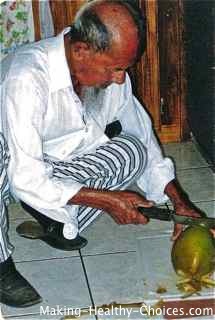 This is a picture of my Grandfather, at age 93, opening a fresh coconut for me. He has been, and will always be, an inspiration of holistic health to me.
__________________________________

Below is a TABLE OF CONTENTS for this site. Within each page are further links to explore each topic in more detail. I wish you a wonderful journey through this site and hope that you find it enlightening and inspiring in some way.
(This site is continually growing. Check back often or click here to subscribe to this site to know when anything new is added.)
| | |
| --- | --- |
| | If you've found this website helpful to you, please consider offering a donation. |
This holistic health course is a free 7-day e-course that can benefit anyone. Increase your awareness of your own holistic health by signing up for this course.
This e-zine is a free monthly publication from Making-Healthy-Choices.com - full of holistic health info. Sign up here to have it sent directly to your email inbox.
Our holistic health store contains only items that we highly recommend and use in our own lives.
Our holistic health store index helps you to quickly find and search for items in our store.
This holistic health site blog keeps you up to date with any additions and changes on the Making-Healthy-Choices.com website. Subscribe here.
My health blog, created to share random thoughts on health related subjects. Please read and share your comments.
Learn how to eat healthy and be healthier. Ideas to help you make that first step or your 100th step.
Try these healthy food recipes and have fun while improving your health. Most of these are raw and vegan... and absolutely delicious!
This raw food list contains foods that are healthy and good for you. Learn the benefits of certain foods and recipes for using them.
Obtain healthy kitchen tools, set up your kitchen and making healthy food will become easy, fun and magical.
Natural cold and flu remedies exist that ease suffering and build health. These home remedies are easy to do and will keep toxic store bought medicines out of your body.
Natural home remedies exist for a variety of ailments and can help you feel better without using dangerous and toxic drugs.
Information on why and how to detox your body.
Natural organic skin care and body care; homemade recipes and tips to be your most glowing and radiant self.
Having an attitude of gratitude means maintaining a positive and loving connection with yourself, others and the world around you.
Using homemade cleaning products in your home will improve your health and provide a safe, non-toxic environment for you and your family.
Spring cleaning tips; spring is the perfect time for cleaning your home and cleansing your body.
I travel because of the amazing things and people a journey will connect me with, both inwards and outwards.
Personal consultation; holistic health assessment and health advice to help you help yourself to better health and wellbeing.
Testimonials and feedback from around the world; what others are saying about this site, the free e-course, personal consultations and more.
Trusted holistic health resources and links are listed here. This list is consciously vetted to include only ones that provide valuable and solid information.
Use this site map to see an index of all pages and to easily navigate around this site.
Use site search to search Making-Healthy-Choices.com for exactly what you are looking for.
All contributions from readers are indexed here. An index of every submission that readers like you have sent us.
About me, Nadia Harper, the author of Making-Healthy-Choices.com and the purpose of this site.
How to build a website, an income generating website, easily and efficiently from home.
Contact me if you have any questions, comments or if you would like to book a holistic health consultation with me.
Please donate if you've found this website to be helpful to you.