Hi,



MAKING-HEALTHY-CHOICES e-ZINE

(January 2014 Issue #028 from www.Making-Healthy-Choices.com)




A fr*ee monthly newsletter to inspire you to be the healthiest, most vital and vibrant version of You!



---
In this month's e-Zine...
"I never did a day's work in my life. It was all fun. " -Thomas A. Edison
---
Set the Stage for the Year to Come
HAPPY NEW YEAR!!! We at Making-Healthy-Choices.com wish you a year full of health, joy, love, laughter, prosperity and beautiful connections with yourself and others.
This year began on a new moon; a time of new starts, new beginnings, freshness, a clean slate… How wonderfully magical!
How We Brought in the New Year
In years past it was about parties, cocktails and being around lots of people. In the more recent years I find myself being more peaceful and solitary as the clock strikes midnight … many years recently I am sweetly tucked away in dreamland as one year turns into the next - and this year was no different.
Since I knew that I would most likely be asleep at midnight, I presented a unique idea. John and I brought in the new year on Dec 31st at 8:13pm. Another way of writing 8:13pm is 20:13. So, as 20:13 (or 2013) turned to 20:14 (or 2014) we sat together in silent meditation and welcomed the new year with gratitude and love. I really liked the feeling of this and feel that we have just started a new tradition!
These first days of 2014 as the new moon waxes into becoming full, is the perfect time to listen to your inner voice and truly re-discover what is important for you this year. Take the time to really look within, take responsibility for your life - your actions, your words, your thoughts, your relationships, your job, etc.
It takes courage to do this honestly and authentically … and there is no greater reward for doing so. You are so worth it!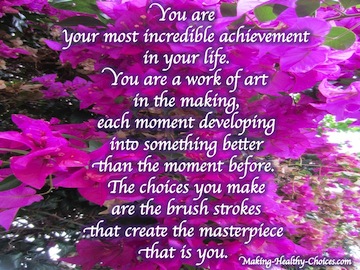 So, from now until the next full moon (Jan 15) spend some time with yourself. Make the first resolution of 2014 be to give yourself this gift. Lots of quiet time so that you can hear the messages coming from within and then on the full moon sit and see where you are. You may be amazingly surprised at the shift that occurs and the revelations that are revealed to you. They may seem small or big and they will definitely set the stage as you continue to move forward on your path.
During this time you may want to do a juice fast or detox cleanse for a day or two, or longer. Fasting is a great way to help to still the mind and re-connect with yourself and it allows an environment where it is much easier for you to hear and interpret messages that are coming to you.
Also during this time I would recommend getting a journal and writing your thoughts in it often and every day setting aside some time to be quiet and still.
Enjoy the process. If it feels challenging or challenging things come up, see those as gifts that are pointing you in a direction to clear those things and create more joy in your life.
---
A Free e-Course to get You on Your Way

As you are easing into another new year, I warmly invite you to take this course. This e-course can be done from the comfort of your own home and it can be done at your pace.
Are you confused with all the conflicting information out there about what is healthy and what is not? This free health course will help you to sift through all the information out there by guiding you in listening to your own common sense.
Whether this is all new to you or you are a long time health seeker, there is something in this course for everyone.
"Thank you for all the e-mails and advice Nadia. What I have so appreciated about the Holistic Health e-Course is not only the very excellent and sensible advice but also that it so clearly comes from someone who really cares and that makes such a difference. When I have spoken with you I have felt as if I am talking to a friend and not someone I have never even met. Helping people to make sensible choices and caring for ones body properly is just so important. After all 'the body is the temple for the soul'." - Antoinette, UK
more testimonials here
"Thank you so much Nadia, I truly enjoyed this course and look forward to doing it again next year. It was easy to read, simple to follow and packed with practical information, again, thank-you so so so much!" - Deloris, Canada
more testimonials here
SIGN UP HERE and get started today.
---
Recipe - Super Yummy Green Smoothie
Have you ever made a smoothie? A smoothie is a blended drink made by putting vegetables and fruits along with other nutritious goodies into a high powered blender.
Smoothies are a great way to sneak a lot of highly nutrient dense foods into your body in an easy to digest form.
For the last few weeks, here in Japan, we have been making smoothies every morning.
Here is our favourite one so far: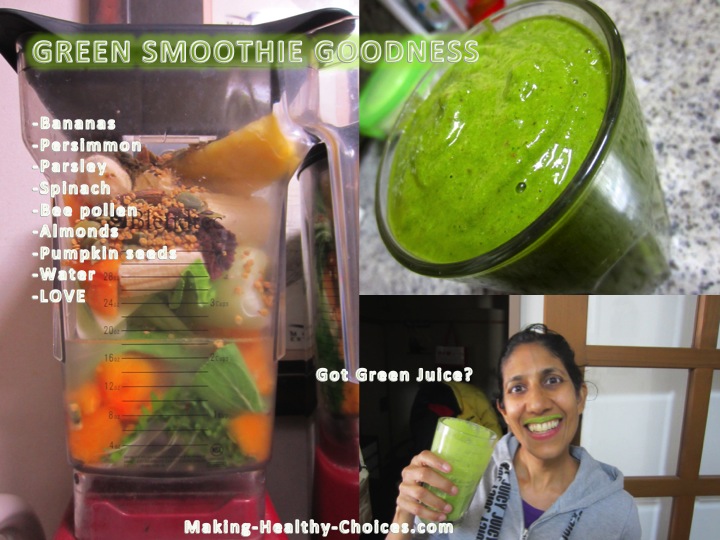 This makes enough for 2-3 people.


2 bananas

1-2 persimmons, very ripe

big handful of parsley

big handful of spinach

1 tbsp of bee pollen
small handful of almonds

small handful of pumpkin seeds

1/2-1 cup of water

LOVE

My measurements aren't exact because I do everything by feel. Use the above as a guideline and be free to add in or take away what feels right for you.
A general guideline is to fill up half of the blender with dark green leafy vegetables, add in everything else and then add enough water to cover the greens at the bottom.
Other things I love adding to the above mix are ginger, cacao and chia seeds.
Really anything goes - the possibilities are only limited by your own imagination and creativity. Each time you make a smoothie use different greens, try adding berries, mango, avocado. A touch of sea salt is really nice to bring all the flavors together and to add in some more trace minerals. Speaking of trace minerals, try adding in some seaweed (dulse is my favourite). Like spicy? Try adding some cayenne pepper or a fresh chili pepper (be careful!). Any other spices you love can be tasty too - cinnamon, basil, nutmeg etc. How about garlic?
You can make your smoothies sweet, savory, spicy or tart. Mix it up, try different combinations and have a different smoothie each time you make one.
Got a combination that you love? I would love to hear it, please reply to this email and share.
---
Once again, HAPPY NEW YEAR from our hearts to yours!
---
If you like this e-zine please share it. If it's been shared with you please subscribe to the Making-Healthy-Choices e-Zine here.

Next month: More quick and easy Holistic Health Tips and Information.

Until then, make healthy choices and be well,

Nadia

Nadia Harper RHN
Holistic Nutritionist and Health Advisor
https://www.making-healthy-choices.com
Follow us on




Disclaimer: This e-zine is for educational purposes only, for the free exchange of ideas in relation to health and wellness. There is no intention to diagnose, prescribe or be a substitute for the advice of a licensed medical practitioner. It is your birthright to learn and make your own choices and the author holds no responsibility for you doing so.
Copyright © 2014 Making-Healthy-Choices.com All Rights Reserved