Hi,



(September 2011 Issue #002 - www.Making-Healthy-Choices.com)




A fr*ee monthly newsletter to inspire you to be the healthiest, most vital and vibrant version of You!



---
A warm welcome to the Making-Healthy-Choices e-zine... Taking the time to focus on your health is the most important thing you can do - you are worth it!

In this month's e-Zine;
"We are not inheriting land from our ancestors, we are borrowing it from our grandchildren" - old Indian proverb
---
Let's Get Trashy
How much waste do you produce? How much of your garbage do you recycle?

Did you know that styrofoam doesn't ever break down? That means that all styrofoam just ends up sitting in a landfill adding to the unhealth of our planet (and therefore us).

It amazes me how many food places STILL use styrofoam containers!! Just crazy when there are better options available!

There is no need to produce as much garbage as most of us do, this isn't just a global problem - it is a situation that we can all make changes to on an individual level. Every little change helps;
use your own containers for take-away food
buy items second hand
find a recycling program in your area and use it
use your own reusable cloth bags for shopping
There are many more creative ideas for reducing the amount of garbage we produce on this page.
Take a look - there may be some things here that you had never even thought of before.

Share some ideas of your own in the comments section at the bottom of the page.
---
Holistic Health F*ree e-Course
With the never ending amount of health information out there, do you find yourself getting confused and overwhelmed?
Is it hard to know who to listen to or what to do first?

Well, sit back and relax with this f*ree 7-Day Holistic Health e-Course. Sign up and receive one e-mail a day for 7 days.

This is a great course with simple and easy to follow information and tips. It is designed to present you with basic common sense facts that are, too often, overlooked these days.

Check this course out if you are just beginning your health journey or if you are already well on your way - there is inspiration within for all!

Click here to sign up for this 7-Day Holistic Health Course.

Thank you for the 7-day course. What an eye opener and how enlightening this week has been. I truly want to thank you for taking the time to give me this opportunity to look at every aspect of my life at the moment. Hope you keep up all the good work. I am passing on this course to my kids, hope they also learn something from all this wealth of inspiration - Alicia
Thank you so much Nadia, I truly enjoyed this course and look forward to doing it again next year. It was easy to read, simple to follow and packed with practical information, again, thank-you so so so much! - Deloris
Click here to sign up for this 7-Day Holistic Health Course.
---
Extra Strength Flossing
Flossing our teeth is an important part of our dental health.
Did you know that each tooth in your mouth corresponds to a certain part of your body? Healthy teeth and gums encourages a healthy body and vice versa - Holistic Health at its finest! (ie. Holistic Health involves the ENTIRE body and everything is connected)

Here is a simple tip to get even more benefits when flossing:

Before you start flossing, rub one drop of peppermint essential oil over the length of the piece of floss you are using.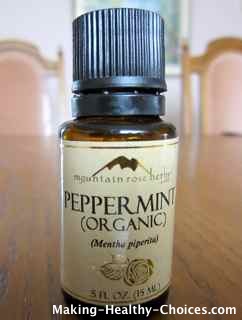 A good quality peppermint essential oil has properties that are anti-microbial, anti-viral and antibiotic. So, by using just a drop of essential oil on your floss you are getting the advantage of these properties on your gums, in between your teeth, where buildup and problems often happen.

Be sure to use a good quality (therapeutic grade) peppermint essential oil.

Here is my recommended place to buy essential oils.

Your mouth will be left with a minty fresh feeling that will help to uplift your entire spirit. How's that for a boost?

Yes, there is mint flavored dental floss that you can buy BUT do you know what exactly they are using to create that minted flavor?

By using your own high grade essential oil you will be sure to be getting all the healthy properties of peppermint oil without any of the unhealthy chemical additives that could be in those mint flavored flosses from the store.

Caution: Essential oils are very concentrated so one drop is plenty. Be careful to not touch your eyes after using the oil as this will cause a stinging sensation in your eyes.
---
If you like this e-zine please share it. If it's been shared with you please subscribe here.

Next month: More quick and easy Holistic Health Tips and Information.

Until then, make healthy choices and be well!

Nadia

Nadia Harper RHN
Holistic Nutritionist and Health Advisor
https://www.making-healthy-choices.com
Follow us on



Disclaimer: This e-zine is for educational purposes only, for the free exchange of ideas in relation to health and wellness. There is no intention to diagnose, prescribe or be a substitute for the advice of a licensed medical practitioner. It is your birthright to learn and make your own choices and the author holds no responsibility for you doing so.
Copyright © 2011 Making-Healthy-Choices.com All Rights Reserved