Hi,



MAKING-HEALTHY-CHOICES e-ZINE

(February 2014 Issue #029 from www.Making-Healthy-Choices.com)




A fr*ee monthly newsletter to inspire you to be the healthiest, most vital and vibrant version of You!



---
In this month's e-Zine...
"I don't know the secret of success but the secret of failure is trying to please everyone." -Bill Cosby
---
Changing Thought Patterns to Return to Joy
I consider us human beings to be naturally happy and social creatures. I feel it is our natural state to be happy, joyous, healthy, loving and connected.
Anything that takes us away from our natural state does not help us to move in a healthy direction nor help us to evolve in a positive way.
As I flow through my life I am continually striving to move towards things that attune me to this natural state.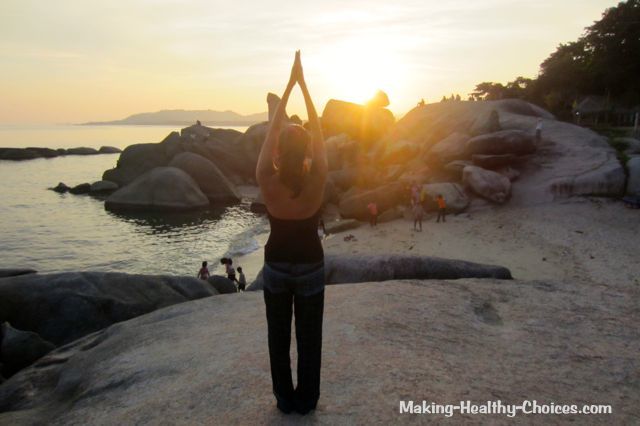 Many of these things come from within our own heads - they way we think, our conditioned responses to things, how we react, our perceptions and beliefs, etc.
Recently there have been two great lessons (or reminders) that have come to me that are HUGE in helping me to attune to my natural state. These are two things that I have let go of in my thinking. I have become aware of how letting go of these two things dramatically reduces the burden (self imposed burden!) that rests on my shoulders, thereby making it easier for the true and natural me to shine through.
1. LET GO OF THE NEED TO HAVE MY WORDS/ADVICE/SUGGESTIONS BE LISTENED TO AND/OR FOLLOWED.
I had an epiphany a few weeks back when I took these words to heart and began heeding them. I learned a long time ago to teach by example, to just do the things that I feel are right for me without any judgement of what any other person does. And I was doing this pretty well in terms of food choices and things like that.
Then it hit me! Even though I had embodied this lesson, there were still so many facets of it I hadn't yet realized and began practicing. So now, I strive to work with this lesson on all levels - not just food choices.
This lesson is the hardest to follow when dealing with loved ones that we are very close to. If your parent, your sibling, your spouse, your best friend is sick or is doing something that you feel is not the best and even hurtful to them, it can be very difficult when it feels like you know some things that can help them but they don't want to listen.
How does this practice look? Well, on the outside it looks no different, I still say and do all the same things that I have been doing all along. But, on the inside is where all the change takes place.
I still offer advice and suggestions with just as much care and love as always but now that is where it stops. It is like a gift, I give the gift of my words without expecting anything in return. It no longer frustrates me if people don't hear me or listen to me.
How do I do this? I remind myself that, I DON'T KNOW ANYTHING … I know nothing of what is right for anyone else's path. I only know what feels right for me in this moment.
So I share whatever I feel is right to share (sometimes that is simply silence), I feel good about my sharing and then I move on. What the other person does with my sharing is no longer something that I am attached to or expectant of.
Believe me, this is hugely freeing!
2. LET GO OF WORRYING ABOUT WHAT OTHER PEOPLE THINK ABOUT MY CHOICES.
Oh Boy … this is a tough one for me. And like anything else, the more I become aware of it and practice it the easier it becomes.
I can feel the burden, the weight that sits on my shoulders when I take on this worry. It can affect my choices in everything from what I choose to speak about to what I choose wear to just about anything!
When what I say or do is not fully in line with my own being but, instead, has been tailored to try to please another I ALWAYS walk away with a certain feeling of regret, remorse, dejection, shame - all things that are not in line with our natural state of happiness and joy.
So, how do I do this one? Well, I remind myself that I don't actually know what another person will think - so why make it up in my mind? And, most importantly, I consider carefully my choices to ensure that most of the time I am making ones that I am proud of. If I am proud and happy with my choices then, regardless of what anyone thinks of them, they will be benefitting my health and wellbeing. And if I am healthy and happy then not only do I benefit but so do others around me.
I also remember that it is not possible to please everyone all the time, it is not my job to do so and it is not necessary to have anyone's approval to make the choices that benefit my wellbeing.
---
Just knowing and adopting these lessons into my life is not the end of the story. This is an on-going game. I continue to practice, to become aware when I slip up and to keep moving forward trying and trying again. The universe will give us infinite situations to practice these things.
I feel like I have just been handed 2 shiny new toys to play with as I move forward in this game we call life.
Have fun playing, be gentle with yourself when you screw up, smile, love and keep going.
---
What We are Eating in Thailand
John and I are now enjoying life on a small tropical island in Thailand where we have rented the cutest little bungalow near the beach.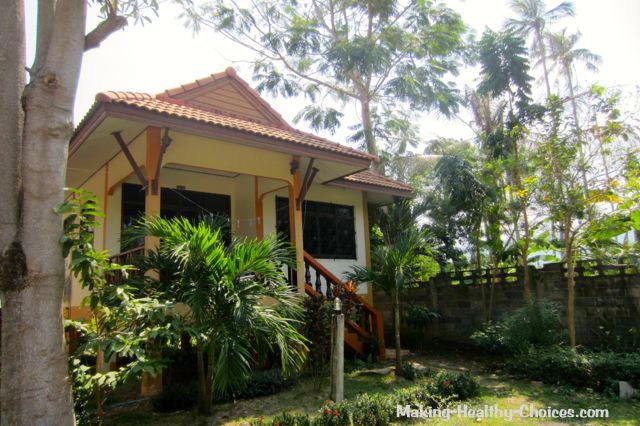 Many people are interested to know what are we eating here.
Most every morning we make super delicious green smoothies in our blender. This involves going to the local outdoor market the day before to buy the ingredients. Whatever country I am living/travelling in, I seek out the local markets to buy my food - it is always a great cultural experience where you can learn so much!
Our local market here is a bunch of tables set up under a big tarp where you can buy fruits and vegetables, fish and meat, cooked foods and spices. For under $3US we can buy everything we need to make a smoothie for the two of us which includes;


Dark green leafy vegetables, 1-3 different kinds (they have a wide variety here, some I am familiar with, many I am not - we just buy what looks good)

Fresh made coconut milk

Fresh fruit (mango, jackfruit, bananas, papaya, lime)

Garlic

Ginger
Turmeric

Hot Peppers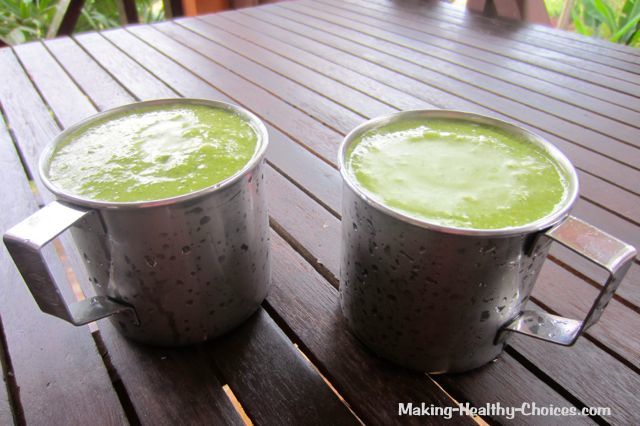 Aside from our gorgeous smoothies, our usual fare includes the following scrumptious eats;


Fresh coconut water and coconut meat

Fruits including pomelo, mangosteen, pineapple, watermelon, cucumbers and durian

Thai cuisine including coconut curries, coconut soups, stir fries made with beautiful fresh spices and usually served with rice or fried rice

Fresh caught fish - grilled with lemon, garlic and chillies

I am writing this early morning, pre smoothie, and I am making myself hungry!!
Where we are living there are abundant restaurants and shops where you can get pretty much anything your heart desires. We are usually attracted to the local cuisine of wherever we are but if our hearts desire it, we can find almost any type of other foods too (American, Italian, German, Western Fast Food, etc., etc., etc.).
As with anywhere in the world, our food choices are our own. Unhealthy temptations exist here too and it is up to us to make healthy choices most of the time and to thoroughly enjoy and appreciate when we indulge in our treats (my biggest treat this week was a yummy plate of gnocchi followed by tiramisu at an Italian restaurant. For John it has been pizza and oreo cookies).
---
If you like this e-zine please share it. If it's been shared with you please subscribe to the Making-Healthy-Choices e-Zine here.

Next month: More quick and easy Holistic Health Tips and Information.

Until then, make healthy choices and be well,

Nadia

Nadia Harper RHN
Holistic Nutritionist and Health Advisor
https://www.making-healthy-choices.com
Follow us on




Disclaimer: This e-zine is for educational purposes only, for the free exchange of ideas in relation to health and wellness. There is no intention to diagnose, prescribe or be a substitute for the advice of a licensed medical practitioner. It is your birthright to learn and make your own choices and the author holds no responsibility for you doing so.
Copyright © 2014 Making-Healthy-Choices.com All Rights Reserved