Hi,



MAKING-HEALTHY-CHOICES e-ZINE

(December 2012 Issue #017 - www.Making-Healthy-Choices.com)




A fr*ee monthly newsletter to inspire you to be the healthiest, most vital and vibrant version of You!



---
A warm welcome to the Making-Healthy-Choices e-zine... Taking the time to focus on your health is the most important thing you can do - you are worth it!

In this month's e-Zine...
This month I am keeping things short and simple ... a holiday wish and cookie recipe;
"First keep the peace within yourself, then you can also bring peace to others." - Thomas A Kempis
---
Wishing you a Healthy Happy Holiday Season
First off this month I want to wish you a very very happy and healthy holiday season. I wish for the new year to bring to you an abundance of peaceful, joyous, healthy and harmonious moments.
I want to take a moment to express my gratitude to all the readers of this newsletter and followers of our website. It is because of you that I spend my moments creating these things into existence. If it wasn't for you they wouldn't be here. And for that I want to express my heartfelt thanks to you for being here and for being dedicated to your health in whatever way feels right for you at this moment.
I hope that you will continue to follow us in the new year. We have so much great content to share with you in 2013 that we are very excited about.
As we all move forward I wish that every day brings you closer to your positive potential, to your highest health, to your life purpose.
Thank you for being you!
---
Recipe of the Month - Christmas Cookies
It's time to make the cookies!!!!
Growing up I have fond memories of decorating Christmas cookies with my Mother. Now, in my own home, I still enjoy doing this and for the last several years I have been using the same recipe.
This recipe is raw and vegan. It is super healthy and also tastes great! There are only a few ingredients and you can use the cookie dough to make several different varieties of cookies.
Of course at this time of year Xmas shape cookies are my favourite.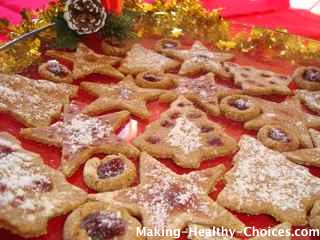 And I will also make these very festive looking thumbprint cookies too;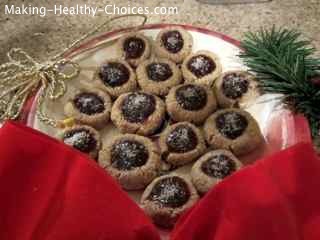 Play with this recipe and come up with your own ideas to decorate and make these cookies festive and full of holiday cheer.
CLICK HERE TO SEE FULL RECIPE.
And check out last month's e-zine for great tips on;
---
If you like this e-zine please share it. If it's been shared with you please subscribe to the Making-Healthy-Choices e-Zine here.

Next month: More quick and easy Holistic Health Tips and Information.

Until then, make healthy choices and be well,

Nadia

Nadia Harper RHN
Holistic Nutritionist and Health Advisor
https://www.making-healthy-choices.com
Follow us on




Disclaimer: This e-zine is for educational purposes only, for the free exchange of ideas in relation to health and wellness. There is no intention to diagnose, prescribe or be a substitute for the advice of a licensed medical practitioner. It is your birthright to learn and make your own choices and the author holds no responsibility for you doing so.
Copyright © 2012 Making-Healthy-Choices.com All Rights Reserved